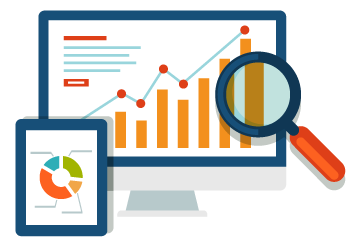 "But I'll never outrank Amazon…!"
I came across this widely-held belief for the umpteenth time in a recent ecommerce forum post.
This thought, and many more along the same lines, have darkened the souls of countless ecommerce store owners, and not just startup entrepreneurs.
To quote the frustrated OP:
"Help! It seems impossible to rank on Page 1 for most of my products because the big box stores and giant online retailers always beat me – I'll never outrank Amazon or Walmart!"
It leads to the inevitable, but incorrect belief that competing against Amazon, Walmart, Wayfair, Alibaba, Overstock.com, or any other mega-online-retailer is a futile exercise.
And since there are now giant "E-tailers" selling virtually everything under the sun, it can almost feel like the opportunity potential of selling online is fading fast.
Fortunately, nothing could be further from the truth.
I've out-ranked Amazon, dozens of times. And not just for non-competitive 'fringe' products, but for popular, in-demand products.
I've also shown others how to do the same, just like I'll show you here.
---
Want to boost traffic, sales, and profits for your Shopify store? Fill out our contact form on our agency homepage for a free custom analysis of your store, or reach out to us by email or phone.
---
Amazon and other shopping site heavyweights certainly do create competitive pressure, but the false assumption that "you can't compete with those guys" also serves to keep many wannabe ecommerce moguls – "wantrepreneurs" – from crowding the field.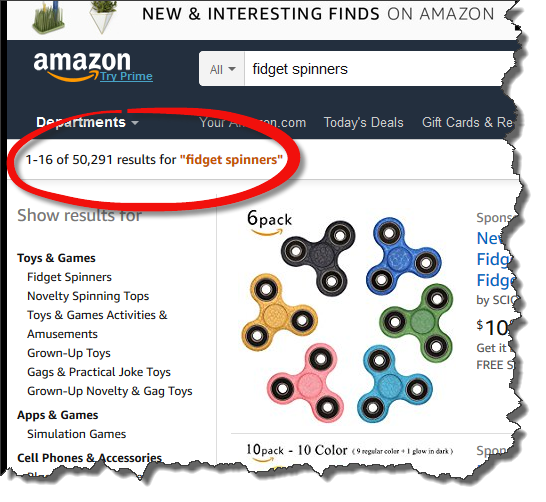 So how, exactly, do we compete with, or even outrank Amazon?
We begin by re-thinking the premise.
Let's consider an example of a recent hyper-trending product, 'fidget spinners'.
I couldn't even begin to guess how many of these things are sold each day, with competition coming not only from Amazon, eBay, etc. but even 7-11 stores!
I do know that on the day I first started writing this post in 2018, Google showed an incredible 4 million monthly searches for the term "fidget spinners" – and that was just in the US alone!
The (Big) Ranking Picture
Before we begin though, let's get this out of the way: no one doing e-commerce as a part-time "build-it-and-they-will-come" side hustle is going to dominate Page 1 in Google for "fidget spinners". Or any other high-volume or competitive product.
But that doesn't mean you need a big advertising budget or 'blackhat' SEO skills in order to succeed with competitive, high-volume, or trending products.
This is where we start re-thinking the premise: it isn't the rankings we're after per se; that's just the means to an end.
What we're ultimately after is sales.
Consider this question: how many of those aforementioned 4 million searches for "fidget spinners" are actually looking to buy one right then?
That's right – very few.
The (Right) Ranking Solution
Broad, general searches don't typically lead to a purchase, at least not right away.
It's the searches with 'buyer intent' we're interested in.
The reasons are two-fold: they convert better, and they are easier to rank for.
Some of us might consider that statement to be basic 'internet marketing 101', but I still see far too many online marketers making that costly mistake of going after low-value-but-very-difficult 'marquee' terms.
But even if we shift our thinking towards 'buyer' terms, the competition at this level can still be brutal.
A top ranking for the phrase "where to buy fidget spinners" would be great for a store that sold them, but a quick search reveals that it is still very tough terrain, with sites like Walmart, Toys R Us, and Target dominating Page 1.
It's no wonder: when I first published this article in 2018, the monthly search volume for that 'buyer' phrase was still a whopping 40.5k!
That's only slightly less than the 33k monthly searches for "Walmart fidget spinner" (and just in case you were wondering, "fidget spinner Amazon" had a monsterous135k searches/mo…)
On its face, that really might seem futile.
But that's not the whole picture, that's just scratching the surface.
To achieve our goal, to outrank Amazon – or 'beat' just about any mega-site – we need only go a little deeper.
The Theory Behind Outranking Amazon
Practically speaking, we wouldn't be all that interested in ranking for "fidget spinners" because it's not a phrase with buyer intent.
But just as the shorter, more general 'marquee' product terms are harder to compete on, so too for shorter or more general 'buyer-intent' terms.
What we're looking for are 'longer-tail' and 'lateral' buyer keywords.
By 'longer-tail', I mean longer, more detailed and expressive terms.
And by 'lateral' buyer keywords, I mean searches that may not on their face be explicit buyer phrases like "where to buy", but are implicit – they have as their likely end-intent a purchase.
What do these longer-tail, lateral buyer terms actually look like, and where can we find them?
Let's first consider where we won't find them: Google's Keyword Planner, the typical 'go-to' tool for keyword research.
It isn't that Google doesn't 'know' what these terms are; they just aren't easily accessible through GKP.
Where we can get some quite readily, is Google's suggestion, or 'auto-complete' engine – all you would have to do is start typing them as a search, and Google will show you the most frequently-typed searches that begin the same way:

One example which we see here is "which fidget spinners are the best".
Although conversion percentages on these longer-tail 'lateral' search terms are going to be lower than an implicit buyer search like "where can I buy fidget spinners", they will still convert far better than just "fidget spinners".
In addition, Page 1 for that search is super-easy to dominate, because it is comprised largely of sub-sub pages (www.domain-name.com/category/something-else/product-description) and easy-to-outrank domains, with few backlinks pointing directly to them.
Most importantly – none of those pages are optimized for that phrase!
A product page that is well-optimized for that phrase can own a top spot on Page 1 with just a few handfuls of relatively easy-to-get backlinks. And depending on the phrase and your optimizations, you might not even need to get backlinks!
The Right Tools For The Job
Now we're starting to see main idea:
'Longer-tail' & 'lateral' buyer terms are rarely optimized for, which means they are literally there for the taking, and while they may be lower-volume, they are very high-converting – and there are bazillions of them!
("Bazillions" = a highly technical term defined as "way more than we'll ever need!")
The key to this whole approach – and the way to outrank Amazon or any other big-box store or mega-retailer – is to dig up these phrases and optimize for them.
We've seen how Google search autocomplete can uncover some of these keywords, however it's slow and limited (showing only a few at a time), and very much a 'hit or miss' outcome (many of the suggestions are either irrelevant or worthless for our purpose).
On top of that, it requires that we know what 'seed search terms' or questions to use, and how to format them properly to get the right results.
Fortunately, there are other tools that will do the job.
One keyword research tool that is popular among SEO's and internet marketers is Ubersuggest.io
This is a "Google autocomplete scraper".
You start by inputting a word, phrase, or partial search term. Ubersuggest then 'scrapes' Google by appending every letter of the alphabet (and number) incrementally, one at a time, and listing the autocomplete results for each.
While this is far faster and more effective than simply doing hit-or-miss guessing directly in Google, it still requires knowing & inputting the right prefixes, and even then has some inherent limits.
A far better tool for our purposes is AnswerThePublic.com.
It does the same thing that Ubersuggest does, but it outputs more results, AND it adds prepositions & questions, like "with", "without", "how", "where", "versus", and many more.
It also gives you table & graphical outputs, which you can see here (I highlighted some of those high-value 'longer-tail' and 'lateral' buyer searches):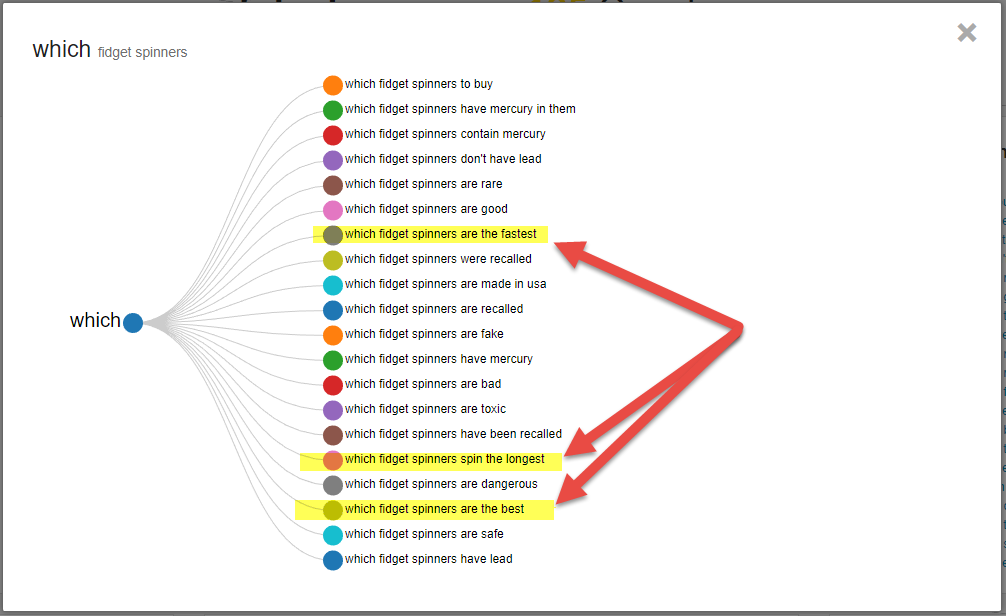 Another invaluable tool is Soovle.com
Did you know that many mega-sites have their own autocomplete function?
Soovle scrapes these sites to give you the frequently asked or searched phrases from Google, Yahoo & Bing, Wikipedia, Youtube – even Ebay, Aliexpress, Amazon, Buy.com, Baidu, and Walmart!
Using Soovle, I've been able to scrape Amazon itself, finding popular searches people are doing right inside Amazon that aren't even optimized for in Google!
In other words, I can uncover what people are actively trying to buy on Amazon – and then outrank Amazon in Google for those very searches!
(Here's a Soovle Power Tip: click on the little "Secrets" link in the upper-right, and the different icon links in the upper right & left of the page for some awesome extra functionality!)
Another favorite tool of mine is KeywordSpy.
While this keyword research tool is aimed at PPC ("Pay Per Click") advertisers, it can provide some fantastic info & insights for our 'outranking' efforts.
KeywordSpy is a paid subscription service, but they offer a never-expiring free 'Guest' account that you can sign up for, and it provides 80% of the functionality of the paid service.
Among the valuable data you can get from this tool are alternate suggestions and misspellings.
Most significantly, though, is the ad data.
KeywordSpy will show you what paid search ads are running for any keywords, and how successful those ads are.
(SpyFu will give you even more ad info, correlated with organic search data!)
And since paid ads are almost always hyper-optimized (because they pay for each click, advertisers put a lot of effort into making sure those ads are as effective as possible), you can extract search phrases that aren't being optimized for in search, and dominate them!
Steps To Outrank Amazon
Now that we know how to figure out what to target, it's time to 'roll up our sleeves' and do some work – but the work isn't hard, and the returns more than justify the effort.
With a list of buyer search phrases to go after, it becomes a relatively simple matter of creating optimized product page listings, and then pointing some backlinks at them.
To optimize a product page for a particular search phrase, you should:
Create a separate 'Page' or pages that you will use as your ranking target. This is different – separate and aside – from your store product page. They can consist simply of some product description text & images linking to your actual product page – or you can really 'supercharge' your effort by including or writing up a review and any other relevant content you can come up with. The idea is that it can be more powerfully optimized for your target search.
(these next steps should also be applied to all your product listings where practical, as they will help them significantly – and crucially, these ranking efforts are cumulative!)
Re-write the product description.
(One of the most-harmful-yet-easy-to-fix issues affecting sooo many ecommerce stores is the use of stock or supplier-provided product images & descriptions; you know, the ones everyone else is using…!)
Include the target search phrase at or very near the beginning of the description text.
Use, or at least include, non-stock, non-supplier-provided images. Quick tip – if you don't have or can't get your hands on unique product images, modify some of the images you do have. You can do this quickly & easily via services like Fiverr.
Tag, title, and/or caption at least one of the images using your target phrase.
Include that target phrase in your 'meta' tags: title tag, description tag, and H1 tag – if you're not sure how to do this, you can Google it, or outsource it on Fiverr.
Now all you need are a handful or two of decent backlinks pointing to that page.
Important: the 'anchor text' – the actual text of the link – should be the exact search phrase or term you are targeting.
Again, these can be outsourced, or you can do some or all of the following:
Write and submit or syndicate some articles (product reviews, tips, use-case examples or case studies, etc). You can do these as 'guest posts' (Google it), or submit them to article directories like Ezinearticles.com for free.
Create one (or more) Youtube videos with a link in the description. These can be done quickly & easily by creating a few slides in Powerpoint using product images, and narrating over them. Alternately, you can do a spoken description or review over a few images.
Join a relevant forum and add your link to your profile and/or 'sig' (signature).
Create 'profiles' on social media and/or blogging platforms like Tumblr, WordPress.com, etc. and add a link.
Ask your product distributor(s), manufacturer(s), or supplier(s) for a backlink on their site.
Do a search for blogs related to your market or niche, and comment on some posts with a backlink.
Outrank Amazon Conclusion
Outranking Amazon is really just an exercise in understanding and targeting the right buyer searches, creating pages optimized for those searches, and pointing some backlinks to those pages.
In most cases, if you've dug up 'longer-tail' and/or 'lateral' buyer-intent phrases, you'll see that Page 1 for those searches is occupied mostly by sub- or sub-sub pages. Some may even be relatively low-authority domains.
By creating product pages optimized for those specific searches, and pointing a dozen or two backlinks at them, you can almost always secure a top Page 1 listing, which in turn will funnel high-converting buyer traffic directly to you.
Since the effects of these pages are cumulative across your domain, each additional optimized page you create helps your store and all its pages.
This is how you outrank Amazon – or anyone else – in the world of ecommerce!