This revenue blueprint is a long-term fav; I've done this on & off for more years than I care to count. It works beautifully, with continual improvements coming from advances in reach & capability.
Best of all, you can apply some basic creativity and spread this out in so many different directions. The opportunities and potential are nearly limitless!
NOTE: All of my revenue-generating Blueprints are based entirely on my own real-world experience; these are things I've done, and in some cases continue to do.
This blueprint revolves around using inexpensive 'off-line' advertising – such as newspaper classified ads – to get traffic to your domain, which then re-directs to a CPA offer.
This is an incredibly effective revenue generator in part because it's so rarely done, and is wonderfully scalable.
What Are "CPA Offers"?

Unlike affiliate offers that pay you when someone makes a purchase from your link, "CPA", or "Cost-Per-Action" offers pay you when someone clicks on your link (or goes to a page you direct them to) and then completes an action such as filling out a form, getting an estimate or quote, or signing up for a free trial.

For this reason, CPA offers often convert higher than affiliate offers since no one has to buy anything.

Like affiliate programs, there are thousands of CPA offers that you can sign up to promote!
If you look at this model in the context of paid traffic, where you might expect to pay a dollar or more for each click that you send to an affiliate product offer, here you'll see clicks to your offers that might end up costing you just pennies or less – sometimes much less.
For example, based on visibility, circulation, and impressions for classified ads, we've run campaigns that yielded hundreds of visits (clicks) to an offer from just a few $10 and $20 ads.
This is something anyone can do, with minimal investment. $50 or $100 spent on ads could return you hundreds or thousands of dollars.
While CPA marketing can be extremely profitable, like affiliate offers it has also become harder and harder to do online (heavy competition, 'ad blindness', ad blockers, etc.) – which makes this off-line method even more effective. It's not something people see often, and the language and context of print advertising, particularly classifieds, is such that people are much more open – or vulnerable – to these ads.
And with a little creative thinking, this method can be expanded and scaled almost indefinitely.
Step 1 – Choosing Offers
There are literally thousands of CPA offers to choose from and promote.
The types of offers that work well for this model include personal finance such as bad credit loans and credit cards, surveys, biz-opps, and high-perceived-value freebies such as Walmart Gift Cards, Free iPhones, etc.
Finding offers to promote can be as easy as Googling "CPA offers". One excellent resource to view and find offers is OfferVault: https://www.offervault.com

In order to actually promote CPA offers, you'll need to sign up with one or more 'CPA networks'. OfferVault also lists (and links to) many of the CPA networks.
You can sign up with as many CPA networks as you like.
* TIP *

While it's true that the more networks you have accounts at, the more offers you have to choose from, I personally prefer narrow-focused efforts.
Unless I have a huge amount of business to spread around, I prefer focusing my efforts on a smaller number of networks, providers, suppliers, etc. This gives me the added benefit of concentrating my volumes, which can increase my percentages and give me more leverage with my account managers. Invariably, the published payout rate of most offers is negotiable – providing you are bringing significant volume.
When considering offers to promote, you'll want to check the terms of the offer carefully, specifically the allowed traffic sources. If you want to play it safe, call up your account manager and tell them what you're intending on doing. As long as it didn't specifically prohibit classifieds upfront, I've never had an account manager balk when I told them the traffic source was classified print ads or direct mail.
(It's also worth mentioning: talk to your account managers. Their primary function and goal is to increase sales. As such, they are generally very happy to tell you which offers are converting best at any given time.)
* Offer Tips *
You want offers that have the easiest 'conversion path' – meaning the visitor converts with the least possible involvement. "Zip-submit" offers are ideal in this respect.
("Zip-submit" offers only require the visitor to provide their name, email, and zip code – hence the name. Because of this, their payout is usually very low – but the conversion rate is typically very high.)
That said, since you're getting visitors from an altogether different place (newspaper ads vs online), with an altogether different mindset (and defenses!), you may want to experiment.
For example, the highest-paying offers in finance generally require full lead info, sometimes the equivalent of filling out a 3-page application. That's a lot to expect from someone who's simply clicked on an online ad.
However it is a whole lot more reasonable when, for instance, you've captured a distressed homeowner reading their local classifieds trying to get help with their mortgage… you get my drift?
Match your offer as best as you can. If you're advertising in mass-market periodical 'classifieds' sections, think mass-market-appeal offers i.e. iPhones, gift cards, etc.
Step 2 – Domain & Redirection
Your classified ad will list a website address (your domain name), which you're going to set up so that it automatically re-directs (sends) visitors to the offer you are promoting.
The first part of this step, then, is to get your domain name.
You can go one of two routes: you can choose a domain name that is keyed to a particular effort (such "shopping-sprees.com" for gift cards), or a more generic domain name that can be used (and re-used) for many different efforts (such as "national-offers.com").
Either way, you want to try for short, memorable, and easy-to-transcribe domain name: remember, unlike online ads, no one is clicking on what they see – they either have to tear it out, write it down, or try to remember it, then type it in on their phone or computer. Don't make it any easier to mess up than necessary.
* TIP *
If you currently have unused domain names, don't get hung up on trying to re-use or 're-purpose' them for this blueprint just because you already have them. Based on the reasoning above, you really don't want to be "penny wise and pound foolish" by trying to save the few bucks that a new domain name costs.
Once you have your domain, you'll want to set up a redirect. You can do this one of two ways – either right from your account panel for most registrars, or using a redirect script.
While it may be easier going the registrar route, you'll have more control, and be able to make changes quicker by using a simple redirect. You will however need hosting to use this type of redirect.
Here is a simple iframe redirect script you can use (replace "Your Domain or Offer Title" with your domain or offer title and replace "target-link.com/aff-ID" with your offer link):
---
<!DOCTYPE html PUBLIC "-//W3C//DTD HTML 4.01 Frameset//EN"
"http://www.w3.org/TR/html4/frameset.dtd">
<html>
<head>
<!– added to cache –>
<title>Your Domain or Offer Title</title>
<meta HTTP-EQUIV="content-type" CONTENT="text/html; charset=UTF-8″>
</head>
<frameset>
<frame marginwidth=0 marginheight=0 frameborder=0 name="TOPFRAME" src="target link.com/aff-ID" noresize>
</frameset>
</html>
---
Copy or enter this as a text file, save it, then upload it to your hosting account.
You'll want to name the file "index.html" and put it in the root directory of your hosting account (typically it's the "public_html" directory).
Once that's done, when someone types in your domain – the one that will be listed in your ads – it will create an "iframe" (invisible frame), opening that offer landing page within what looks like your domain.
Step 3 – Buying Ad Placements
There are literally tens of thousands of places to buy classified ads. You can find newspapers and publications accepting classifieds at your local public library, at newsstands if you live in or near large cities, or you can simply go online and search by area using variations of the following:
(city/place) + "classified ads"
Alternately, you can use our 'secret weapon', a national print ad aggregator.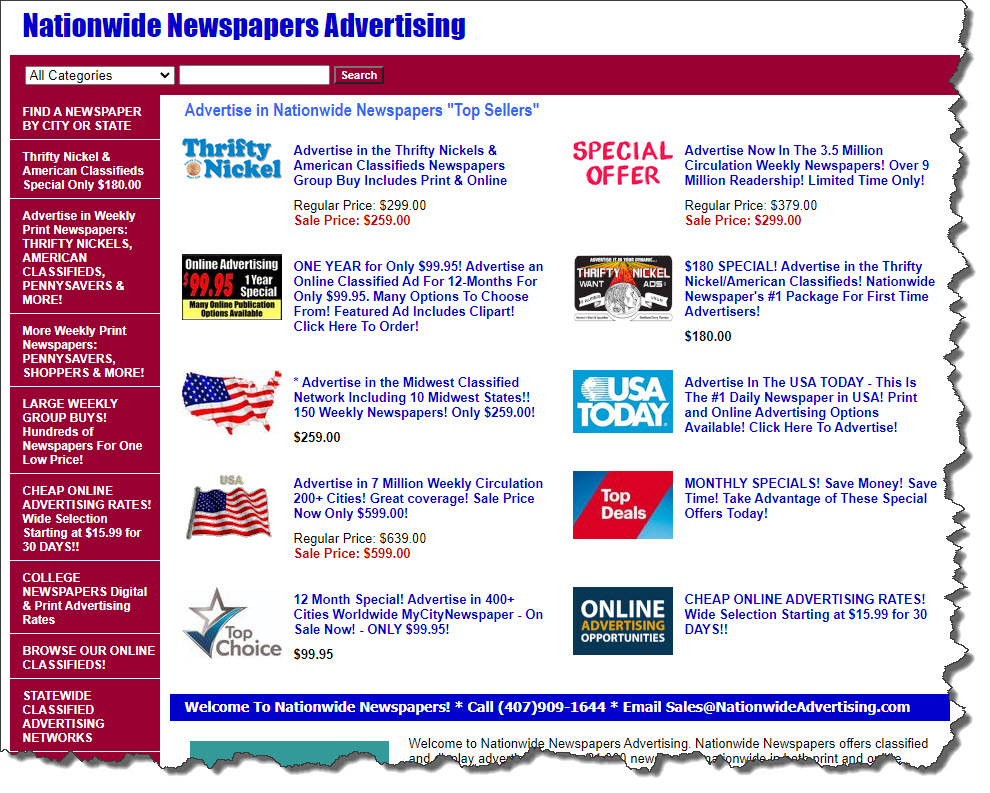 They buy bulk space and then put together bundles allowing you to get wide yet targeted placements without the headache of reaching out to 20 or 50 or 500 individual papers.
You can get some incredible exposure this way; one current bundle gives you ad circulation of 1 million for just $180; another listed bundle puts your ad in 55 US classifieds with a combined readership of 3.5 million for just $259 – an absurdly small amount for a very wide 'throw':
Nationwide Newspapers Advertising
Once you see what they offer, you would be hard pressed to do it any other way. In fact, when you see what you can do in terms of classifieds and at what cost, I almost guarantee your head will start spinning with other ways to take advantage of this low-cost advertising medium.
* TIP *
You can place text-only classifieds, and 'image' classifieds. Whenever you can, place 'image' ads – and use bizarre, off-beat, strange, unusual pictures, just to attract attention. The copy should do the rest. But for every percentage point gain in attracting attention, your earnings will go way up!
Variations We've Tried
We've made a ton of money by hiring high-school or college kids to do 'windshield flyers' in mall parking lots, stadium parking lots, etc. It's extremely effective if you have the right offers, and create effective flyers (think: split-testing different flyer designs and types).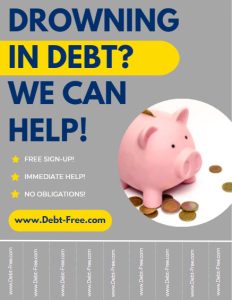 NOTE: You'll need to be careful with this strategy, as windshield flyers may be illegal in some locations.
We've also done very well posting "tear-offs" – those ubiquitous flyers you see in supermarkets, train & bus stations, etc., usually advertising baby sitting or yard sales, with a name/phone # printed vertically along the bottom and cut for easy tear-off.
With tear-off flyers, we printed the website address on the tear-off portion.
Both of these tactics work extremely well, especially for higher-dollar offers – providing you don't mismatch the offer and venue.
Finally, we've had mixed success with some of the 'online' classifieds like Craigslist, Backpage, and eBay Classifieds.
Making this variation work entails a lot of testing: different offer types, categories, and times (think 'gift card' offers around the holidays).
Keep in mind, 'online' classifieds changes the model somewhat, losing one of the main benefits – the significantly different impact and perception of print versus online.
Variations We Haven't Tried
One variation I've been meaning to try but haven't gotten around to, is 'geo-targeted' casino offers (these are offers for online gaming that pay out when someone opens & funds a new account). I think this could be a tremendous "jackpot" for someone (pun intended!).
Targeting areas outside of easy casino reach might be very lucrative, particularly when you're talking about offers that can pay out $100-$200 and more – yes, that's as much as $200 per sign-up!
Another variation we haven't tried is focusing on pairing specialty publications with appropriate offers. Think 'bad-credit' offers in local thrift periodicals like "Penny Saver", or those casino offers in some of the big-city Lottery periodicals – even in the national 'scandal sheets' like the National Enquirer!
Finally, you don't necessarily have to limit yourself to standard classifieds. "Display ads", can also be incredibly effective.
Display ads, which are typically sold by 'column inches' (a "2×2" is typically 2 columns by 2 inches, resulting in a 3.8 inch by 2 inch ad), or page fractions (e.g. "1/8th page" ad, etc.), can be surprisingly inexpensive. That same aggregator, Nationwide Newspapers Advertising, lists statewide "2×2" display ads as low as $89.
(I listed that one under "Variations I Haven't Tried" because I haven't yet promoted CPA offers via print display ads, however I have used them in the past – profitably – for some affiliate offers).
These Blueprints are based entirely on actual, real-world efforts. They have been working and generating revenue, in some cases, for years.
But as with most things worth doing, they require time and effort. Nothing happens by itself.
We've provided you with a set of plans that are tested & proven, but you have to put in the work to make them work. This leaves you with two choices:
Do nothing and get nothing, OR…
Do what we do and get the results we get.